Week 39 in the US: We were kept busy as upon our return home from Nepal, we entertained our student visitors from Switzerland, the very next day. John and Zuzana were to spend a couple weeks here in Princeton.
Week 40 saw the beginning of November, in which Hubs and I had the pleasure of experiencing our first hot air balloon ride. Our
"emergency crash landing" was caught in the local news
, apparently. The Hubs left for Asia, later in Week 40.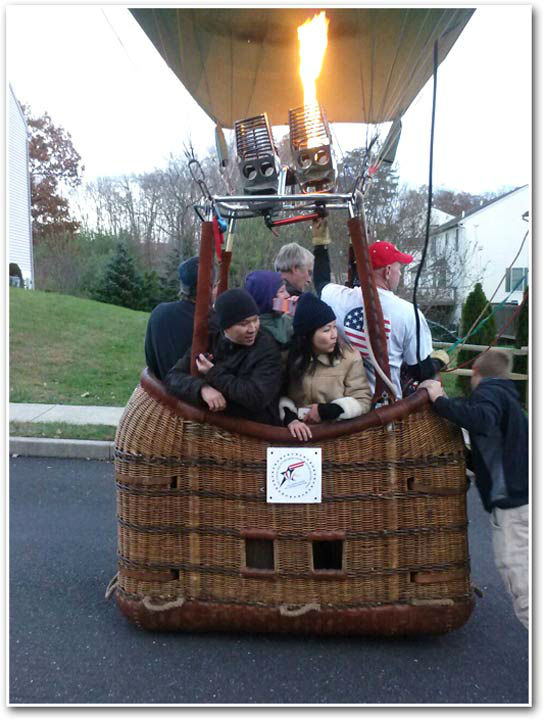 Week 41 began with a heavy-heart-ed Friday as I brought Fluffy in to the hospital for an emergency. Nevertheless, I still made it out to New York City to meet up with long-time blogging friend, Michela, that Saturday.
I said goodbye to Fluffy,
Sunday morning, and spent the next days of the week grieving.
Before Fluffy's incident, visiting friend John extended his stay by a week, which in hindsight, was such a great thing as his company was much appreciated, and sending him around by car fine-tuned my driving confidence. (Can't speak for my parking, though.) John also cooked for us fajitas one night, and we had a movie outing another evening. And so suddenly, I woke up that Thursday morning feeling clear-headed and decided that it was time I did something for the house, and myself, as opposed to laying around and moping the day away. I began sorting out the messy heap of plastic shopping bags shoved under the kitchen sink... Something as mindless and seemingly unproductive was a start.
I then managed to complete sewing a self-drafted skirt that I've left untouched for weeks.
We are in the middle of Week 42, now.
Week 42 was a weekend that began with John's departure on Saturday. I was kept busy on Sunday with old friends, Jasmin and family, where they took me out to the sweet little town, Cranbury...
Monday, yesterday, saw me hanging out with Cathy in an antique store, Tomato Factory, in Hopewell. (Thanks again, for taking me there, Cathy.)
In-between all these outings with concerned friends, I was busy spring-cleaning this 1850-built house, in anticipation of my family's visit! My parents and sister are coming to spend the rest of Week 42 with me, as we await the return of The Hubs from Asia.
I am moved by the outreach of friends near and far. It is true that we all get by with the help from our friends.
Thank you.